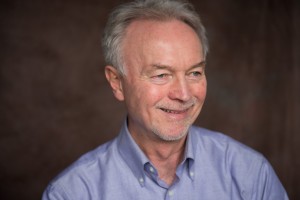 John Nicholls graduated from Oxford University, UK, in 1966, and then worked for some years in the computer industry. An interest in psycho-physical growth disciplines led him to train as an Alexander teacher (1973 to 1976). He trained in London with Walter and Dilys Carrington, at the oldest established Alexander training center, and at the invitation of the Carringtons remained at the center for eleven years, building up a large private practice and assisting daily on the teacher training course.
In 1980 John became an elected member of the Council of the Society of Teachers of the Alexander Technique (STAT) and was Chairman of STAT in 1985 and 1986, during which time he initiated the devolution of STAT into affiliated national societies. In 1986 he gave the annual STAT Alexander Memorial Lecture, which was published under the title: The Alexander Technique in a Larger Context.
He then spent three years in Australia, directing the Melbourne Alexander Teacher Training School and again building up a large private practice. After this period in Australia, he returned to the UK as Director of a teacher training course in Brighton, East Sussex. His highly praised book, The Alexander Technique: In Conversation with John Nicholls and Sean Carey, was published in a first edition in 1985, with a Danish translation, and a greatly expanded and revised second edition in 1991 (English version only). He also edited STATNEWS from 1990 to 1992.
Between 1990 and 2002 John directed the Brighton Alexander Teacher Training Course, gave private lessons in Brighton and London (at the Constructive Teaching Centre), and ran seminars for the public and regular post-graduate classes for teachers in Britain, Denmark, Germany, Holland, Italy, Australia and the USA (New York and Boston).
As well as working closely with the Carringtons, John was able during the 1970s, 80s and 90s, to meet and experience the hands-on work of many renowned teachers from an earlier generation such as Marjory Barlow, Margaret Goldie, Patrick Macdonald, John Skinner, Irene Tasker, Sidney Holland, Tony Spawforth, Goddard Binkley; and in the USA Marjorie Barstow, and Judith Leibowitz and Deborah Caplan (co-founders of ACAT). In 1986 he also completed a two year training in Transpersonal Psychology in London with Ian Gordon-Brown (Lucis Trust and Psychosynthesis) and Barbara Somers (Jungian analyst).
In 2003 John moved to New York City where he offered private lessons, "hands-on" supervision groups for teachers and trainees, a teacher certification program, and structured postgraduate courses for teachers. He was also on the faculty of the Annual Summer East Coast Residential Course at North Carolina School of the Arts (formerly at Sweet Briar, Virginia), has been a featured guest teacher at several AmSAT Conferences, gave the AmSAT Alexander Memorial Lecture (titled Where Are We Going?) in 2005, and was featured as a Continuous Learning Presenter at the 2004, 2008, and 2011 International Alexander Congresses at Oxford University, UK and Lugano, Switzerland, and again at the 2015 Congress in Limerick, Ireland. He was also invited to give the keynote address at the 2014 AmSAT annual conference. As a teacher trainer John has graduated over 100 teachers from training programs he has directed in the UK, Australia, and the USA.
John is now in the UK again and will be happy to travel to share his in-depth knowledge, understanding, and experience of the Alexander Technique. He offers individual lessons and group classes, "hands on" supervision of teachers and trainees and Postgraduate Advanced Training Programs for teachers and you can contact him at jnichollsat@gmail.com if you would like to invite him to your area to share his understanding of the Alexander Technique in Depth. Arrangements can be very flexible. See the Calendar page for John's current commitments and here and here for testimonials.

In between travelling commitments, John is based in the Isle of Man and Alexander enthusiasts from other countries have begun spending short periods there for intensive study with John.
You can find out more about John and his experience training and working with Walter Carrington in this interview with Robert Rickover at Body Learning – The Alexander Technique Podcast.